DYNAMIC TEAM
We have a diverse team of architects, engineers, designers, material scientists, and construction specialists.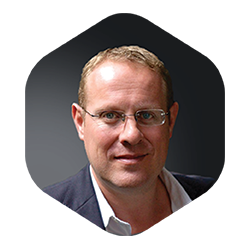 Chris, strong of 25 years' experience, brings a wealth of managerial expertise in consulting, contracting, and offers a global insight into the construction industry, both in the UK and internationally. Besides operational experience, he has managed start-ups, turnarounds and joint ventures. He worked with clients such as Land Securities, BBC and British Airways on major projects including Wembley Stadium, BBC Broadcasting House and The Royal Ballet School. He successfully designed and built the UK's first off-site, fully automated line for the application of intumescent fire protection to steel structures, considered as a major achievement. Chris has assembled the Modulous team and holds responsibility for all aspects of the business.
Mel, our Chief Financial Officer since January 2019, is a chartered accountant and holds a law degree from Cambridge. He has carved out a niche working with innovative, disruptive technology-focused businesses, looking to scale up and commercialise their products. He is the former managing director of Spiralite, a 2016 Sunday Times Tech Track 100 company, where he designed and implemented the global IP and international licensing strategy for a patented ductwork system. He spent 15 years in principal investor and corporate finance roles across both public and private markets with 3i, Deloitte, PwC and Orbis Investments. He led the financial and commercial due diligence teams on several investments in the UK and US markets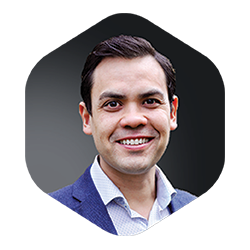 As a registered professional engineer with 20 years experience, Chris delivers innovative yet pragmatic designs optimising form and materiality to improve occupants health & well-being, while reducing energy demands and environmental impact. Over the past ten years, Chris has led design teams on projects ranging from a zero-net energy educational research centre to the new Google HQ in Mountain View, CA. Chris carries a wealth of international best practice experience in energy efficient building systems. His philosophy is to keep design simple, integrate passive technologies where appropriate and educate the end user to be in control.
Richard Scott-Smith | CTO, Head of Middle East
Richard earned a master's degree in engineering science at Oxford University and has spent the past 15 years leading teams in the development of highly innovative solutions in the construction and technology industries. From designing the award-winning façade of Northumbria University's Law & Design buildings, building a three-restaurant complex in a single day in Bahrain, to rolling out BIM across Atkins' design offices globally and founding & leading the home automation company, Avario, Richard has a diverse wealth of experience to draw on.
Romill Bettany | Engineering Director
Romill has 20 years of extensive consulting experience in fire engineering in the international property and construction industries. He has worked with numerous clients from Land Securities and British Land to Foster + Partners and Hopkins Architects. His key strengths lie in identifying and understanding client's needs, developing and maintaining client relationships and combining excellent communication skills with a strong technical background to deliver a high standard of client service. With an excellent knowledge of international design standards, codes and building regulations, he has specialised in developing performance based engineering solutions, optimising the design of complex buildings and providing expert reviews in legal cases.
Markus Cosmann | Compliance Director, Head of Europe
Markus has 19 years consulting and engineering experience in Germany, the UK and Denmark. He directed various international projects for the construction industry, including the Oslo National Museum, The Femern Belt Tunnel, and is currently working on the German and Swiss Pavilions at Dubai Expo 2020. Markus has extensive knowledge in the application and interpretation of national and international guidelines, design standards and legislation. He brings a clear, broad and pragmatic perspective to our product in the local context, without losing focus on innovation. He heads up European Operations, and oversees project compliance, approvals and product certification.
Coraline Faurie | Digital Solutions Director
Coraline's combined research studies and consultancy work led her to find practical and innovative solutions, using CFD (Computational Fluid Dynamics), for the most challenging problems of the construction industry. She acquired extensive knowledge in the digital tools developed to automate and improve processes deployed for her primary field of interest, fluid dynamics using computer modelling. She went on to extend her expertise to other disruptive technologies, such as Blockchain, IoT and AI to develop streamlined digital strategies for the design, procurement, manufacture and delivery of smart and sustainable modular homes. Coraline's key projects include the Rio Metro, LA Metro Purple Line extension and the Saudi Arabian British Bank HQ.
Adam Couch | Technical Director
With a 21-year career in both design and contracting, Adam has covered many aspects of the construction industry, including interior design, architecture, façade sub-contracting and main contracting. During his 9 years in the Middle East, he has delivered a number of iconic projects such as Midfield Terminal in Abu Dhabi, Abu Dhabi World Trade Centre and the National Bank of Kuwait in Kuwait City. He has continually implemented the efficient use of BIM to digitally coordinate, deliver and manage projects. Adam is responsible for the design of the modular components for manufacturing and assembly, ensuring efficiency, sustainability, affordability and scalability.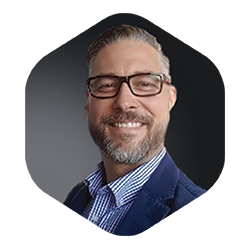 Shaun Shulba | Business Development Director, Middle East
Shaun has spent the last 25 years converting concepts into businesses which solve difficult problems in challenging environments. A serial entrepreneur with two exits under his belt, Shaun combines real world experience with an aptitude for invention, team-building, and leadership. As a business development director and COO, Shaun has been directly responsible for successfully delivering over 130 million USD in projects within the MENA region. His companies have spanned modular, IoT, automation and e-commerce sectors with disruption and innovation as the goal.
Andrew Haining | Prospective Chairman and Mentor
Andrew has over 30 years' experience in private equity and property fund management with namely; Bank of America, NatWest, CDC (now Bridgepoint Capital) and Botts & Company. He cofounded Balmuir Partners in October 2005, has been the Founding Chairman of Heartstone Inns since it was established in 2007, and has been Chairman and Director of Aurigny Air Services Ltd since June 2016. He also serves as Non-Executive Chairman at PraxisIFM Group Limited, serves as the Chairman of Shrewsbury School Foundation, and served as a Non-Executive Director of Norcros plc until July 16, 2007. His past directorships also include Malmaison, Scotsman Hotels and INTH. Andrew graduated from Cambridge University with a degree in Economics.